Shopping Cart
Your Cart is Empty
There was an error with PayPal
Click here to try again
Thank you for your business!
You should be receiving an order confirmation from Paypal shortly.
Exit Shopping Cart
| | |
| --- | --- |
| Posted by Eilis on July 3, 2011 at 12:30 AM | |
Vanessa has a great post for Chapter Five: Using a Framework for Language and Literacy Teaching.
Here is the link: 
http://www.pre-kpages.com/literacy-beginnings-chapter-5/
Here are my thoughts:
This chapter covers both 3-hour and 6-hour schedules for a typical Pre-K day. My program falls somewhere in between. The students come to school for five hours, but leave my classroom for an outclass (Spanish, Music, P.E., or Library) for 30 or 40 minutes each day. I use this pocket chart with pictures as a guide for the students. After a few weeks of school, they relate the days of the week to the various outclasses. We also read a morning message each day with wording such as, "Today we go to P.E."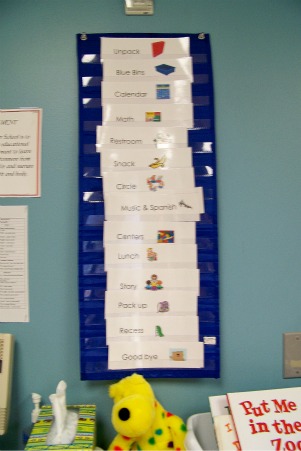 The second item in the pocket chart, "blue bins," refers to fine motor activities. Once each child has unpacked his/her backpack, he/she chooses one of these activities. A maximum of two children may play with each tub at a time. I find this really works well during the 20-minute arrival window for many reasons.
* Helps kids transition from saying good-bye to parents to something they can't resist in the classroom during the first days of school.
* Open-ended: They don't feel frustrated if they have just started to do something and it is already time to come to circle as they would with a puzzle or game.
* Easy for the kids to tidy up independently (no lids, etc.).
* Great fine motor practice.
* An ice-breaker for quiet kids to start talking to one other child.
* Frees me up to greet children as they arrive and take lunch count etc.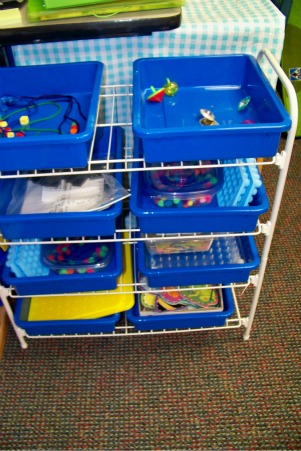 During the first days of school, I have the trays out on the tables in the morning for simplicity. Later students choose them from the rack. The trays were $2.50 in the Target Dollar Spot and the rack is really for shoes.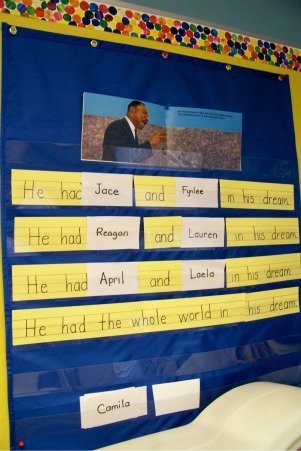 The classroom routines that the authors describe sound very much like my own. I do have my class library organized in tubs, there are many books that we have made as a class available to the children, we do a lot with shared reading and writing. We include songs and movement in our calendar routine.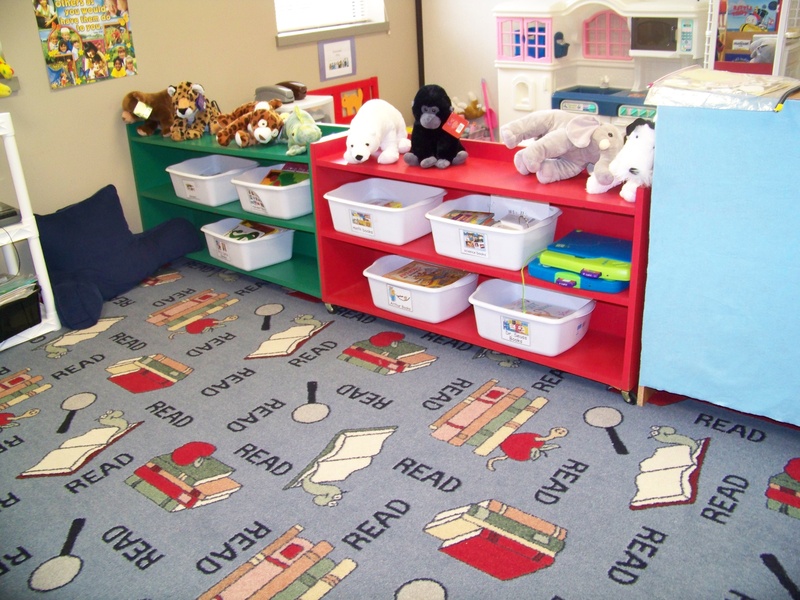 A point the authors made that I completely agree with, is the importance of giving each child something to sit on at circle time (carpet square, tape, etc.) Since this room is small and I have to use the floor space for multiple purposes, I bought these chair pads at Ikea. They allow me to seat the children in whatever arrangement I wish (circle, lines, etc.). I did not have names on them last year (since I wanted to be able to use them for years). I would like to think of a semi-permanent way to put names on them. Let me know if you have an idea (maybe velcro?)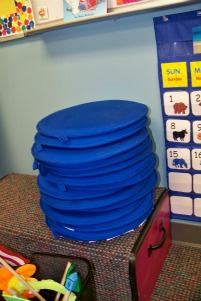 One thing I do handle differently than suggested in the chapter is the assignment of classroom jobs. The authors mentioned assigning students jobs for a week at a time. I choose a new line leader each day for one simple reason. I have 12-14 students. If they each get to be leader for a week, someone has to wait three months for a turn! Three months is an eternity when you are four years old. The line leader becomes the door holder (second in line) the next day. Those are my only two job titles. The duties for the day (Calendar, lunch helper, etc.) are split between them.

I try to incorporate phonemic awareness all through the day. Sometimes when we line up I will call the kids saying, "If your name rhymes with do, line up..."

Vanessa asked what some of our favorite interactive read alouds are. This year my students LOVED Maisy Big, Maisy Small. Each page offers brief phrases and fun illustrations of opposite things




Finally, the example of a parent newsletter/email provided in the chapter is very similar to the weekly emails I send.  In addition, I frequently upload photos of the kids in action to our free class Shutterfly site.  I get a lot of positive feedback from parents about being able to see what their kids do at school on this password protected site.  I also use the calendar on it to send out reminders about special days at school and to schedule parent conferences.

Categories: Literacy Beginnings

0

/