Shopping Cart
Your Cart is Empty
There was an error with PayPal
Click here to try again
Thank you for your business!
You should be receiving an order confirmation from Paypal shortly.
Exit Shopping Cart
| | |
| --- | --- |
| Posted by Eilis on July 16, 2011 at 1:20 PM | |
Developing Early Writing Behaviors Through Teaching Interactions
This chapter provides many examples of ways to encourage our young students to start putting their thoughts on paper.  I like all the specific phrases that Fountas and Pinnell listed for teachers to say to students to encourage their early writing efforts.   Basically, the word "good" is not good enough.  I sometimes find that I read material like this, plan to incorporate suggestions into my future teaching, but close the book, and forget the specifics.  So, I made a cute list of some of my favorite phrases from the chapter.  I am going to display it in my classroom and refer to it when I am working with kids on writing.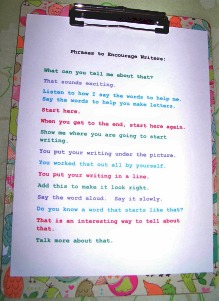 What writing looks like in my classroom:
We begin journals during the first days of school.  I keep it simple by passing out blank white paper and markers.  At the beginning of the year I am looking for pictures and names. (I date and file the pages.)  I move around the room writing sentences dictated by the kids as called for.  It is amazing to see the development in the pictures over the year.  Many of the children add letters and words over time.  I love the "speech bubble" idea that Karen shared yesterday http://prekinders.com/2011/07/literacy-beginnings-chapter-16/.  I can't wait to try that.
The writing center is always available during center time. I try to keep it engaging with student name cards, envelopes, Magnadoodles, dry erase boards, stencils, and alphabet stamping markers, etc. http://www.growinginprek.com/writingcenter.htm.  I ask families for recycled paper at the beginning of the year.  The kids don't mind using the blank side of old letterhead or office copies.  There is also new blank paper available when both sides matter.  Leslie gave some great tips on making blank books in her blog about chapter 15: http://nomoreworksheets.com/2011/07/learning-to-write/.
Rotating materials can really increase interest. (Cute seasonal pencils are very appealing.)  It seems like writing "clicks" for many of the students each February when the writing center is stocked with materials to make valentines.  I include some words like Mom, Dad, and " I love you" for the kids to copy.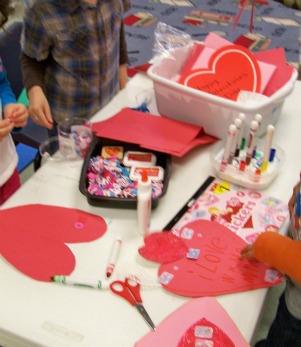 The kids get very involved in making cards for parents and friends with the words "I love..."   This tends to carry over into their journals.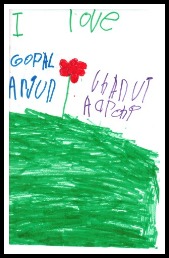 Aarohi wrote family members' names without any help.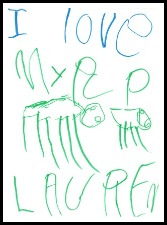 Lauren was able sound out "pup" when journal writing that she loved her dogs.
She used visual analysis to write "my" and "love" since she was very familar with these words.
Creating Birthday Cards
On a student's birthday, I fold a  piece of construction paper into a card, write Happy Birthday John on the front, and have all the kids sign inside.  This year, that activity lead to students creating birthday card extravaganzas for each other in the writing center.  The one below was created by a group of girls for one girl in the class.  They taped it together.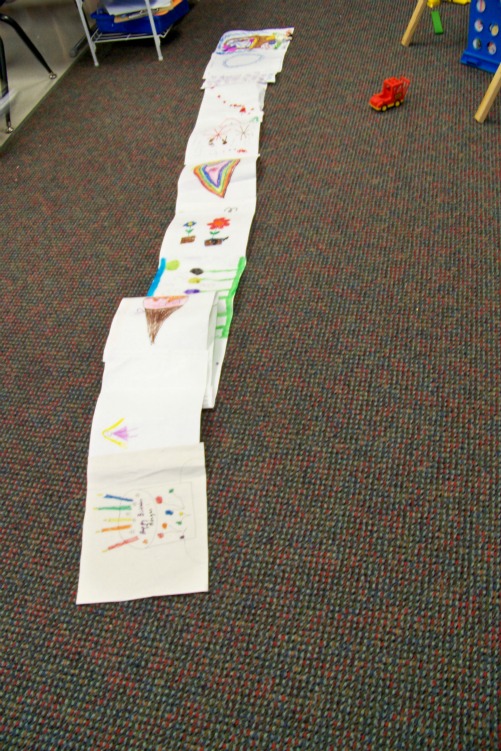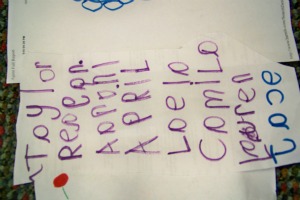 One of the girls wrote everyone's name as part of the card.
Setting up a post office in the dramatic play area also prompted a lot of writing. 
http://www.growinginprek.com/dramaticplay.htm

The example below was actually a correction of a number, but I just loved it and wanted to share. We had been counting the cans that class families donated for a food drive. The kids counted and corrected the sign as they arrived one morning. (I wish I could show you the picture of the kids sitting around the box, grinning with pride at their accomplishment.)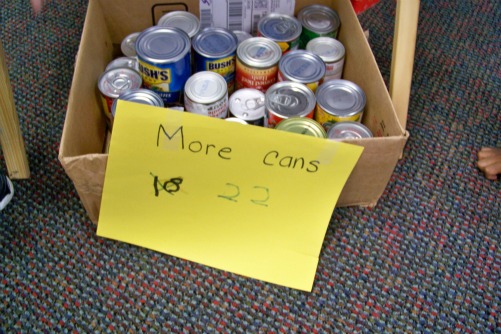 Composing Sentences and Placing Words on the Page
I model these activities in shared writing.  The children provided these suggestions for what they were going to do if it snowed tomorrow (which didn't pan out, but was a very exciting prospect in the Texas Gulf Coast at the time).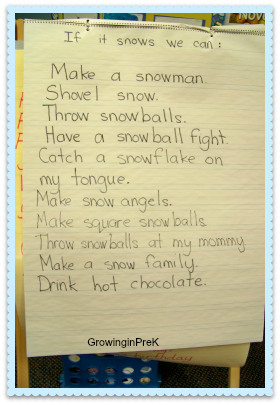 Forming Letters
The authors mention having students write the letters in the air.  This has been a fun and very popular circle activity in our room. They remind us, as teachers, to be consistent in demonstrating how to form letters.  They provide  Appendix H with descriptions of the "verbal path." In Appendix D, Lesson 7, they suggest that "pairing the verbal path descriptions with motor movements helps children form letters efficiently.  Eventually, they will internalize the language, and the actions will become automatic."  I think these are great suggestions.
 I like to add activities such as writing letters in salt or on Ziploc bags filled with paint as an additional option for kids who do not yet have the fine motor skills necessary to hold a a pencil correctly.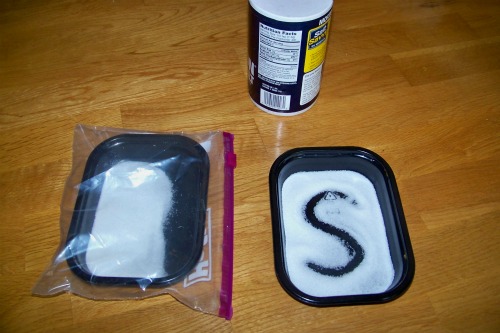 I also like to have the kids create letters from collage materials related to the sound of the letter:
http://www.growinginprek.com/lettercollages201011.htm
There are also many manipulatives available in the ABC center for kids to interact with letters and words: http://www.growinginprek.com/abccenter.htm
Here is a great link if you would like more ideas for helping children develop fine motor skills:http://writeoutofthebox.com/tips.php.  I have attended workshops presented by Marianne Gibbs, EdD, OTR/L, the creator and presenter of Write Out of the Box!® . She is a registered occupational therapist.  She offers a lot of good information about having kids cross the midline and the development of the tripod grasp.
Using Sound Analysis to Construct Words and
Using Visual Analysis to Construct Words
The authors describe how to teach with these techniques during shared/interactive writing. Basically, you want the children to discover how to say the word aloud/slowly and listen for sounds and identify which letter to write.
We work on these skills with tins of magnetic letters. ( I really want those tiny lunch boxes that dollar stores sometimes have.  They would be easier for students to open and handle.)  We start out by figuring out how to make words like "in" or "it."  We work up to word families.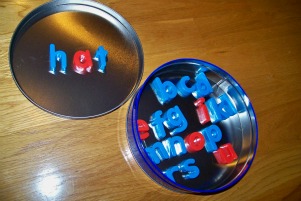 We use the same activity for Monitoring and Correcting Words.
Revisiting Text
The authors suggest working with a text produced through shared/interactive writing.   The teacher uses prompts such as "Find a word that starts with (letter)."  So far, I have just been doing this with shared reading.  I will have to branch out and try this with something we have written in class.
The chapter concludes with:  Using Mentor Texts to Help Children Draw and Write
We do lots of class books as extensions of literature we have read.  At the beginning of the year we work a lot with names. After reading A My Name is Alice, I had each child find the letter that his/her name started with and glue it on the page.  We worked together to come up with things they liked that started with the same letter as their names.  I did the writing and they did the illustrating.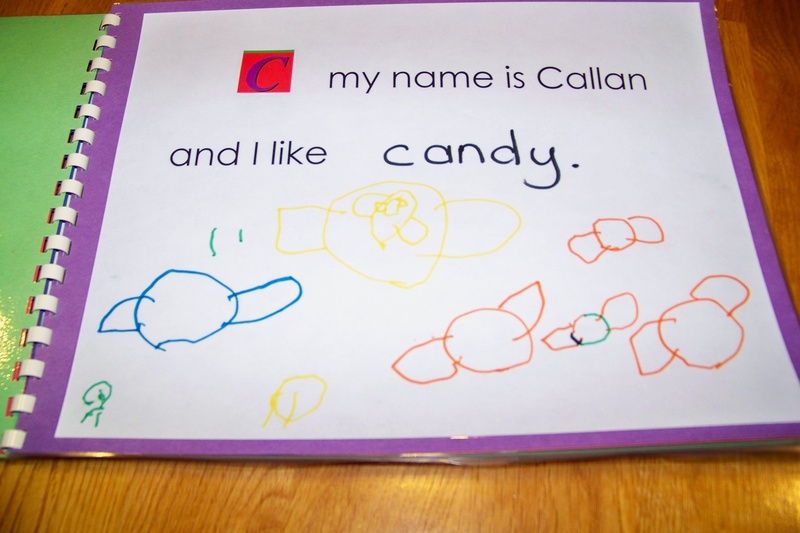 In January, after reading One Mitten, we created our own version of what a mitten could be.  I have the picture below because I was so delighted by the wonderful job that particular student did with such an abstract concept. There is a printable of the page below if you would like it.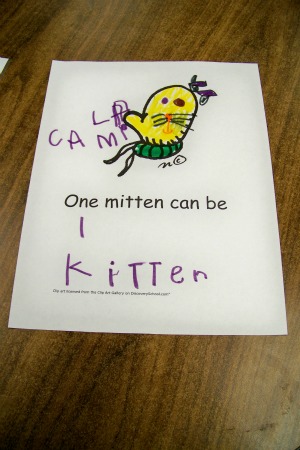 http://creativeprek.webs.com/One_Mitten_Class_Book.pdf
In April, the kids really enjoyed reading Quick as a Cricket and reflecting on some of their own qualities to make this book.  At this point in the year, most of the kids could figure out what letter a word started with and asked for help in spelling the rest of the word.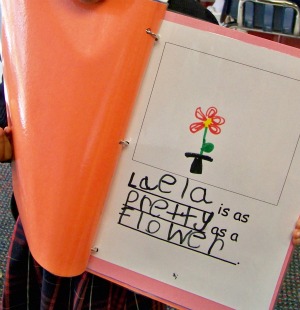 You can print this page here:
http://www.growinginprek.com//QuietCricket%20Class%20Book.pdf
It Looked Like Spilt Milk provided a fun painting and writing activity.  The writing leant itself well to having the kids use sound analysis to construct words.  They painted pictures such as the sun, the moon, and flowers.  They could identify beginning and ending sounds and needed less help to write the words.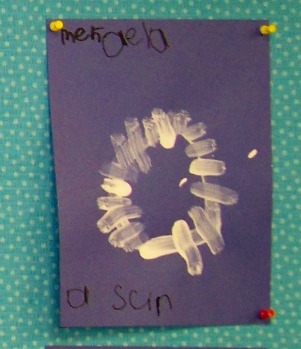 The pages never made it into a book because we loved them on our bulletin board.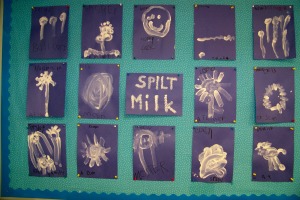 So far, I have only used mentor texts to inspire class books.  The authors suggest using them to encourage children to make their own books about  topics that they know and care about.  I will give this a try in the upcoming school year.  I can tell we are going to be VERY busy this year.
What do you do in your classroom to encourage young writers?  Please comment with your ideas.
Before I close,  I want to share a great link to a Youtube video of Dr. Jean on reading and writing with young children. This would be an excellent resource to share with parents:
http://www.youtube.com/watch?v=qybjsvDgGhQ
Tune in tomorrow for Matt's discussion of Chapter 18 The Reading-Writing Connection. 
http://lookatmyhappyrainbow.blogspot.com/
Blessings,
Eilis
P.S. Please vote in the Literacy Beginnings photo contest
Categories: Literacy Beginnings, Writing
/