Shopping Cart
Your Cart is Empty
There was an error with PayPal
Click here to try again
Thank you for your business!
You should be receiving an order confirmation from Paypal shortly.
Exit Shopping Cart
| | |
| --- | --- |
| Posted by Eilis on December 4, 2012 at 6:05 AM | |
Our elf arrived yesterday.  The package was very cold because it came from the North Pole.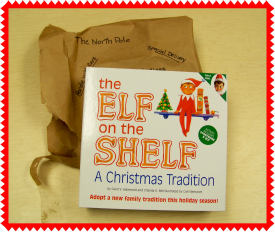 (This activity is helping me to feel like it is almost Christmas.  It is still hot here and doesn't feel at all like December....)
The kids are very excited and voted on the name Mario.  (Well...at least he didn't get named Angry Bird....)  I went to the Elf on the Shelf site and registered our little friend.  I scrolled down to custom so that the word family wouldn't appear on our adoption certificate.  Here's a picture of Mario's first nightly adventure.  Who knows...maybe it will generate a little interest in this pocket chart which has been collecting dust in my classroom for three years.  It was hanging there when I moved in, and I keep thinking we will use it one of these days....Maybe the hiding place was too good...The kids NEVER found him!  They are usually a very observant bunch, but I guess the elf was just too clever... So calm searching was starting to turn into a frenzy...I helped them out before they started to dump out Legos, etc.  This is supposed to be helping with classroom  management as Christmas approaches....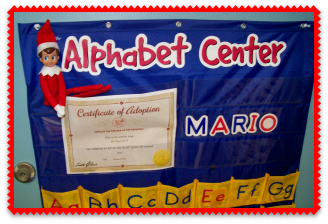 He left us an elf report binder, so of course we filled in our first elf report.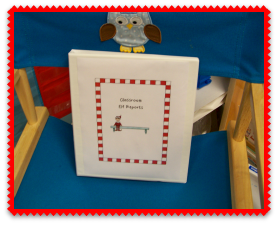 I think he might show up somewhere much more obvious tomorrow...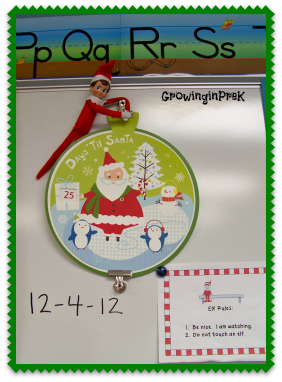 Wait...did he change the number of days until Christmas? !
I have added  a couple more items to my Elf printables.  I have uploaded them as the FREE preview so that everyone can enjoy them.  One is a sheet for asking the elf a question (to answer during the night).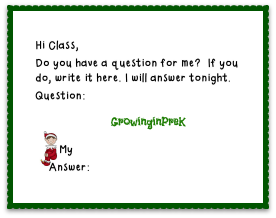 The other is a printable to use if you would like to start a You've Been Elf-ed adventure at your school: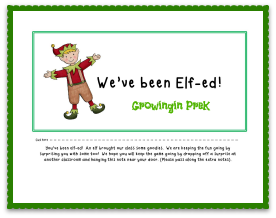 How fun to leave some holiday pencils, stickers, or whatever you please to a neighboring class. There are two pages.  One is for your own class when your elf leaves you a treat with enough to share.  The other is for the other classes to explain the game.  I suggest including extra copies so the fun will be carried on until winter break (or until all the classes have been elf-ed).
Looking for more elf ideas?  This is a very inspiring list and many of the items could be adapted for a classroom.
We also went on our sight word gingerbread man hunt today.  It is a FREE PRINTABLE at my Teachers Notebook Shop.
We read  
  and then brought our clipboards, sheets, and pencils to the library to search.  It was one of those amazing teaching times when everyone is focused, on-task, and happy.  I could not believe how much they enjoyed the hunt and how well their lists of "sight words" turned out.  A few finished early and were happy to help the others find challenging gingerbread men.  Once five or six kids had finished, I turned the paper over on their clipboards and told them to draw.  Again, this was amaziningly engaging.  Some days are just awesome....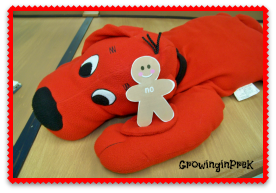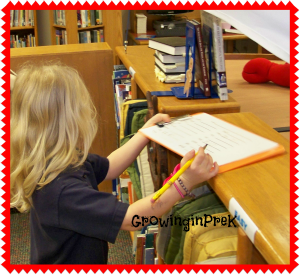 Look there's one....
I am looking forward to trying the number hunt in a different location at school.
AND LOTS of gingerbread mail arrived after school this afternoon.  My class is going to love opening the mail.  I think I will hold some back so we can open two or three each day.  
Blessings,

Categories: Christmas, Printables, Teachers Notebook Items
/