Shopping Cart
Your Cart is Empty
There was an error with PayPal
Click here to try again
Thank you for your business!
You should be receiving an order confirmation from Paypal shortly.
Exit Shopping Cart
| | |
| --- | --- |
| Posted by Eilis on November 24, 2012 at 8:00 PM | |
I have been using the same themes for years now.  Thanks to the great ideas I find on other teacher's blogs, I have new and improved activities each year.  However, this year I am stepping out of my comfort zone and adding a new theme!  I went to a wonderful Preschool Summer Institute at Region 4 in Houston last summer.  We all went home with lots of great teaching ideas AND materials.  We were each given a Lakeshore astronaut costume and several space related items from Lakeshore.   So...when, while planning the year's themes with my team , we noticed that we have an "extra" week between Thanksgiving and December this year....  I decided that we had to do a space theme so I could use my cool new stuff.  ( I also have access to a second uniform since a friend who attended with me was willing to share hers as long as I share mine another week.)
But .. as the week approached, I got concerned.  I knew I could make a rocket out of a wardrobe box for dramatic play....but frankly I wanted something quick, inexpensive, and educational.  Then....I saw it....on PInterest of course.  Check out this amazing International Space Station at The Very Busy Kindergarten.  I barely got through cooking Thanksgiving dinner.  All I could think about was how to turn my classroom into a space station.  I had been worried about what the other kids would do while two dressed up as astronauts and had all the fun.  Then I saw those experiment boxes made from cardboard boxes, dishwashing gloves, and clear wrap.  I already have an "Is it magnetic ?" center that I haven't put out yet this year.  I also have some space looking linking pieces from Oriental Trading that usually collect dust at the back of the cabinet.  I was planning to use free cardboard boxes.....but then I saw these gray boxes intended to store photos.  They were sturdy and the just had "the look" I wanted.  So...my experiment boxes were not free ($7 each at Garden Ridge) plus about a dollar for the dishwashing gloves...but the good news is that I WILL use them to store my space stuff until next year....
I also splurged on a Solar System map for our Tag Readers 
I added head phones to each one and then two kids could easily use the mat at once: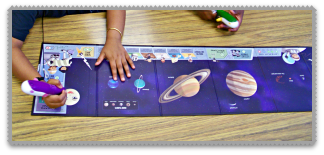 Here's the link to my space board on Pinterest if you are interested.  I found some free printables photos of planets at Montessori Mom and phases of the moon also at Montessori Mom.  I used my home laminator to turn those free printables into sturdy materials for my students to handle.
    and of course the 10 cent laminating sheets from Amazon....
Now (drum roll please) on to the space station (or shuttle depending on imaginations)  that I made from a science board.  I turned my Little Tykes kitchen around so that just the white side was showing.  I decorated the poster board with Solar System posters from the local Teacher Supply store and added sheets of paper that had been run through our printer each time it tried to align because we had inserted a new ink cartridge. (No...it didn't really need to align all those times...but it thought it did and now I am glad I didn't throw away all the paper it wasted...).  Guess how I made the "switches?"  I cut strips of black adhesive foam sheets and folded them in half, letting about half of that stick together and using the other two quarters of adhesive to stick on my science board.  Not bad for a total of 99 cents...  I got really lucky on the chairs.  I had purchased them at Marshall's last year for independent reading places.  I had not brought them to my small classroom yet this year, so these students have not seen them and they are for all intents and purposes.....astronaut seats.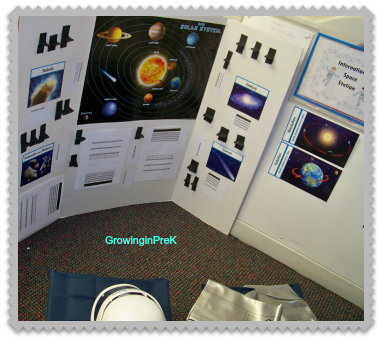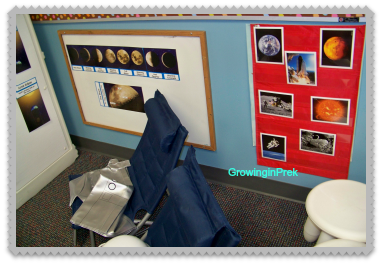 The silver on the seat is one of the Lakeshore astronaut uniforms.  Here's a student wearing one: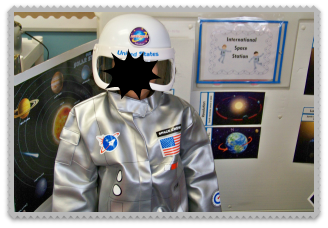 Here are some pictures of my progress on the experiment boxes: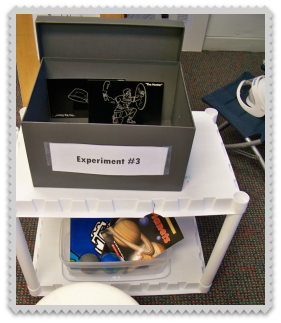 This one is constellation cards with holes in them.  The student shines a flashlight in the box to see the constellation through the holes.  (One of the Lakeshore items that I was given last summer...)  I had to add a piece of black cloth for the student to work under to make it easier for kids to see the constellations in a small area.
The lower shelf shows some space themed easy readers for the kids to enjoy.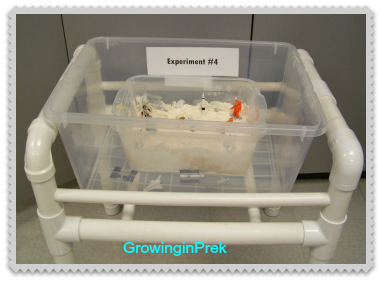 I put some flour and baby oil in a plastic container as moon sand or fairy sand.  It does have an interesting soft texture and smells great.  I added this assortment of tiny astronauts: 
I am limiting this experiment to one student at a time since he/she will need to wash hands after playing.
Lucky again... my normal sensory tub and the gray closets behind have that "Space Station" look...
Here's a picture of me assembling the experiment which involves building with the Oriental Trading pieces: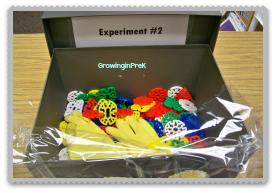 Here it is in use with the cellophane taped over it: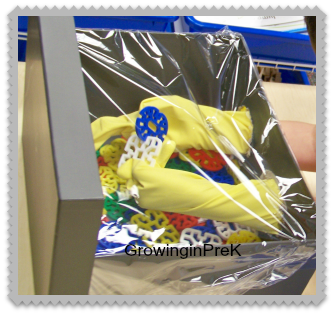 After cutting two holes for the dishwashing gloves, I hot glued the gloves to the outside of the holes.
We also made constellations: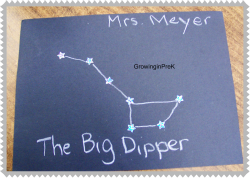 I demonstrated the Big Dipper, but let the kids be creative on their own constellations.
Everyone cooperated on a floor puzzle:
Since I found a bag of golf practice balls at the Target Dollar Spot, each child will take home his/her own pipe cleaner model of revolve/rotate.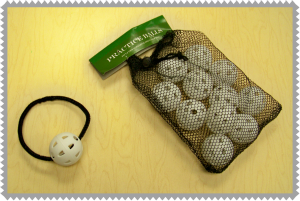 I found this idea HERE.
Here's a link to my Space Printables ( $1.50) at My Teachers Notebook Shop.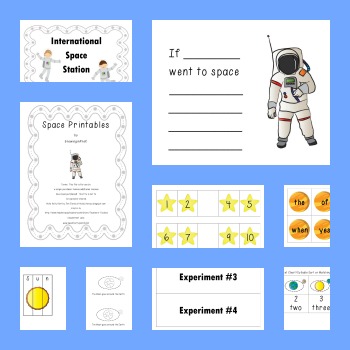 The printables include the following: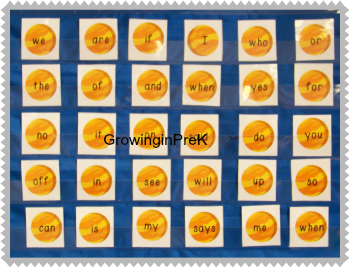 Sight words on planets for a pocket chart game.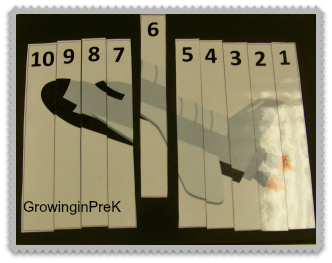 Puzzles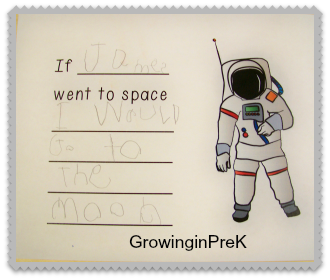 Class Book.
There is also an emergent reader about space: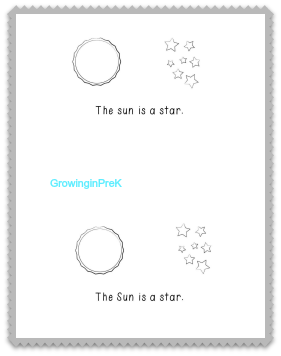 and this Race to Trace Dice Game.  I found some ten sided dice at the Teacher Supply store.  If you don't have these, students will need the option of rolling one or two dice each time so they can get a one.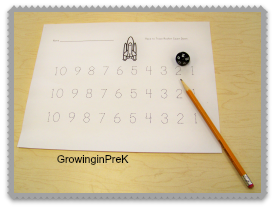 Lots and lots of educational space fun!

Categories: Dramatic Play, Teachers Notebook Items, Science
/