Shopping Cart
Your Cart is Empty
There was an error with PayPal
Click here to try again
Thank you for your business!
You should be receiving an order confirmation from Paypal shortly.
Exit Shopping Cart
| | |
| --- | --- |
| Posted by Eilis on November 19, 2011 at 9:15 AM | |
The Indian Corn is really growing!  I have taken it home over the Thanksgiving break because the water gets cloudy.  I have been changing the water every couple of days.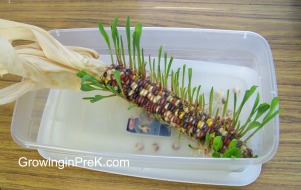 I picked up this "blender" at Target for our "making butter" project.  It has a little metal sphere inside.  The cream turned into butter VERY quickly.  Each student took one quick turn to shake it while everyone else worked on their pasta necklaces.  Then we enjoyed our fresh butter on bread.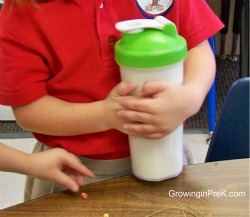 Lots of fine motor work and patterning practice with colored pasta necklaces:

Here are some pictures from the Thanksgiving book we made.  I found this idea at http://thoughtsofesme.blogspot.com/2010/11/tale-of-thanskgiving.html
It was a big project spread out over many days...but I LOVED the results.  The kids were eager to find out which page we were doing each day and became very familiar with Pilgrims, Native Americans, the Mayflower, etc.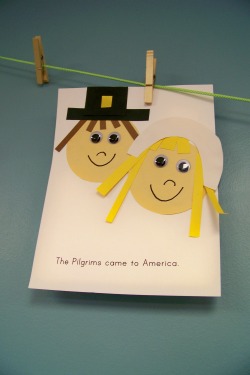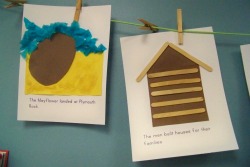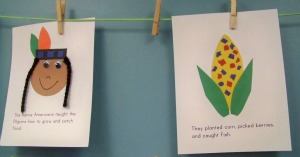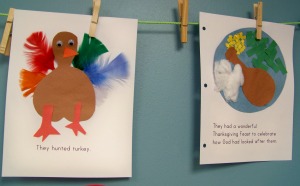 I bound the finished books with three one-inch binder rings.
And last but not least... here is my favorite Thanksgiving read aloud:          
Happy Thanksgiving!
| | |
| --- | --- |
| Posted by Eilis on November 11, 2011 at 7:40 PM | |
Our pumpkin is thriving: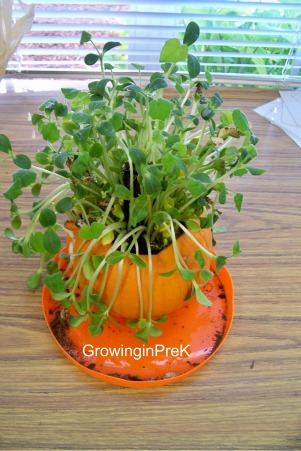 It was starting to mold, so we have planted it outside the classroom window as last year.  Fingers crossed...
Here's our new fun science project: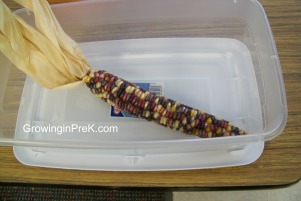 We found this idea here: http://www.thevirtualvine.com/thanksgiving.html.
I tried several local grocery stores for Indian Corn without luck.  Finally, I tried a garden center near me.  They had them! They were 1.99 each and already dry.  I figured that we plant dry seeds, so why not dry corn?  On Monday, we put the cob in a plastic shoe box with about an inch of water.  I am happy to report that five days later, we have six roots growing on the bottom!  We are looking forward to see what happens next. 
/